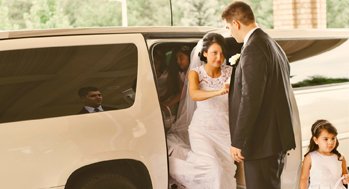 You want a limo for your wedding, but what type of limo? That is the question left unanswered. In order to decide, you should first determine how many people will be riding in the limo with you so that you can easily narrow down the types of limos available for your needs. For example, if it is you just you, your spouse, the best man and the maid of honor, then a nice luxury sedan limo will get you there with style and flair. But if you plan on riding with the entire wedding party, then you will need a larger limo, such as a stretch limo or a luxury coach bus, which are very stylish and will fit your entire wedding party with room to spare. The largest luxury coach buses seat 35 people very comfortably. On a side note, you might want to consider having a limo large enough to seat your wedding photographer, so he or she can take some nice candid wide angle shots of you and the wedding party.
You should also carefully consider what type of package you want. Lower hour rentals cost more than 4 or 5 hour packages. If you want to have the limo available at your beck and call, you should consider renting it for the entire night. Most limo companies will offer you a package deal, especially for weddings. Many companies will throw in free upgrades, such as a bottle of champagne or other niceties. A high quality limo company will understand the importance of your wedding day and want to make it as special as possible for you and your party. If the cost of the limo is an issue, you can always opt for a less expensive option such as a Lincoln Town car. When you partner with the right limousine company, they will help you identify which type of limo will best meet your needs.
No matter what type of limo you need, Top Limousine Service has all of your wedding limo needs covered. We specialize in limos for weddings, and we ensure that we will help you create a memorable occasion. We have been the go-to company for wedding limos in Livonia for years, thanks to our large selection of limos and our friendly and knowledgeable staff and chauffeurs. If you're getting ready for a wedding, contact us today to learn how we can enhance your big day!