About Us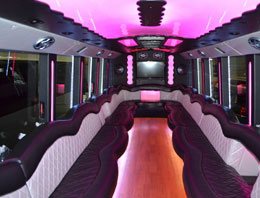 We're a family owned business that has served the Metro Detroit area for many years.
We are a family owned Michigan company that specializes in luxury transportation for all events across the great State of Michigan. Our goal is to provide the finest vehicles, unparalleled customer service, tailored event transportation service, and unbelievable deals to our customers and we strive to meet this goal ever single day. This dedication and all of the products and services we offer has earned us a reputation as the best, and that's a reputation we're proud of and that we aim to keep!
The first thing you'll notice, is that we offer a wide range of upscale limousines, SUV limousines, limo buses, limo vans, and sedans that vary in size and style so we are able to accommodate the needs of our clients, no matter what those needs might be! Our limo vans, buses, and limos are so luxurious with custom designed interiors and multimedia options that make them perfect for anything from elegant weddings to casual outings with friends. You'll love the supple leather seats, colorful lighting effects, TVs, music players, and much more! You can visit our fleet page to learn about specific features and view photos of each vehicle! When you call to learn more or to request a quote, you'll quickly find that we also offer the best customer service!
When you first contact us, you'll speak to one of our outstanding customer service agents. Our agents are knowledgeable and helpful and truly want you to have the best experience with us! They'll answer any questions you have, find you the best prices on vehicles for your event, and let you know all of your options. You'll quickly find that we'll have the service you need! Because we offer 24 hour operations, a variety of vehicles, and a large area of travel, you can schedule perfectly tailored service to suit your needs! A sedan to take you to the airport first thing in the morning? A limousine for your wedding party in the afternoon? A limo bus for your birthday late at night? We'll be there for it all! Let our agents know what you've got planned and what you're looking for in terms of transportation and we'll make sure your needs are met!
Luxury transportation is something we believe can really take an event to the next level, and it's our hope to provide the Top Luxury experience to as many people as possible. That's why we offer such great deals on our services! We feel you'll be more than happy with our prices, so give us a call now and our agents will let you know the current pricing! So what are you waiting for? Don't settle for any less than the best - call us today!
---
At Top Limousine Service, we don't believe that high quality and high class have to come at a high price! Contact us today or request an on line quote to reserve your ride now!