Wedding Transportation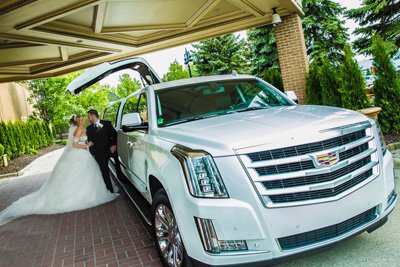 Top Luxury Limo is renowned for its exemplary wedding transportation services.
If you need a party bus, limousine, or sedan rental service with superior quality and service, we are the company of choice. Whether it is a simple task of getting you to the venue on time, from the service to the reception, or the airport for your honeymoon, or transportation for the entire bridal party and/or guests, we have everything to make it happen in style.
With our professional, licensed and insured drivers, as well as the widest collection of brand new cars, we can turn your wedding dream into a reality.
---
Enjoy Your Big Day into Style!
A wedding is one of the most important events in a person's life. However, a memorable wedding is not just about exchanging vows and receiving pleasantries from the guests. An important arrangement you have to make is transportation to and from the venue; however, wedding transportation is more than just getting from point A to point B, it is an opportunity to make a bold statement. This is why you need to find a transportation company that matches, and even enhances, your wedding.
---
Our Professional Wedding Limo Service
Our chauffeurs are experienced, properly attired, and knowledgeable in proper wedding etiquette. Our wedding limousine service is aimed at making you feel comfortable and relaxed knowing that you are with a capable team and that you will reach your destination at the right time. We are committed to provide you with a memorable wedding experience, because that is what we do best.
We are a family owned and operated company that has set high standards in wedding transportation services in Livonia, Novi, Sterling Heights, Northville, Ann Arbor, and Royal Oak MI, as well as the surrounding areas. Because we understand that this is your special day, we put our best foot forward to make it as exemplary and as remarkable as we can. Top Luxury Limo boasts of having the widest range of brand new cars that are driven by professional drivers. Our vehicles are also modern, in great condition, clean, stylish, and reliable.
---
Premier Limousine Transportation Services
As a one-stop shop for wedding transportation services, we also offer wedding packages that include champagne, red carpet, and much more. No matter the size of your wedding party, we will work with you to ensure that your transportation needs are adequately covered for your big day. Above all, we work hard to ensure that your wedding group arrives safely, but most importantly, on time.
---
With our unsurpassed experience in wedding transportation industry, we believe we are better placed to make your big day stand out. Our luxury amenities include comfortable leather seats, video screens, inputs for charging phones and music players, and a host of other amenities. Let us add a touch of class to your wedding day. For these and other services, contact us today or get an online quote!